Why using cloth diapers is better
How many cloth diapers do you need?
How to care for your cloth diapers
Prefolds are usually made of bleached or unbleached cotton or hemp. The rectangular

piece of fabric is sewn into three sections while the middle part has more layers of material and the sides less to ensure a better absorbency in the middle and a less bulky fitting around the legs. You can easily fold them into place and keep them snug around your baby's body with a Snappi diaper fastener or by simply laying them into a waterproof diaper cover. Either way, prefolds always require a waterproof diaper cover. Prefolds are easy to use and are your most economical solution in cloth diapering.
Price: from $1.82
Fitted Diapers are designed to wrap around your baby like a disposable diaper. They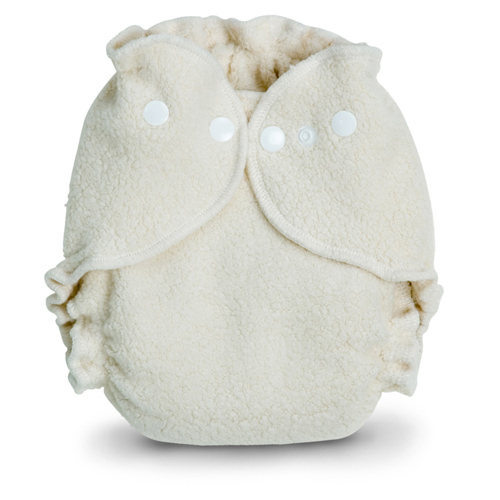 are available with either velcro or snap fastening and come in cotton, hemp or sherpa. The diaper has several layers of fabric to ensure high absorbency and elastics in the back and around the legs to avoid leaks. They are a popular choice of new parents because they don't require any folding skills and are convenient to use. Fitted cloth diapers require a waterproof diaper cover.
Costs: from $12.50
Pocket Cloth Diapers are modern cloth diapers which come in a variety of beautiful colors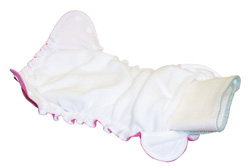 and fun patterns. They are a two part diapering system with a waterproof shell on the outside and a sewn-in, soft, stay-dry lining on the inside. In between these two fabrics there is an opening, the "pocket", which can be filled with an absorbent material such as a prefold or specifically designed inserts for pocket diapers made of either cotton, hemp, fleece, terry or microfibre. Pocket diapers can be customized to your baby's needs. If your baby is a heavy wetter, add a booster for additional absorbancy. These diapers are very convenient; they are easy to wash and quick to dry, comfortable and keep your baby's bum dry.
Costs: from $16.95
All-in-One (AIO) Cloth Diapers are an excellent choice for parents who want the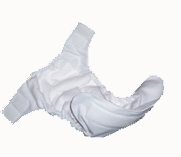 convenience of disposable diapers but without the toxins. The outer waterproof shell, absorbent material and inner liner are sewn together. The advantage of All-in-Ones is how easy they are to use. There is no folding and no stuffing or pinning necessary. These go on just as a disposable diaper would. They are great for outings or for use by caregivers and grandparents. It's always good to have a few in your stack.
Costs: from $19.95
One-Size Cloth Diapers are designed to fit baby from birth to potty training. You just snap down the front to the appropriate set of snaps (small, medium or large) to customize the size of the diaper. They are available in all cloth diaper designs presented above. Please note that One-Size diapers generally fit babies between 8-35 lbs and therefore won't fit smaller newborns very well.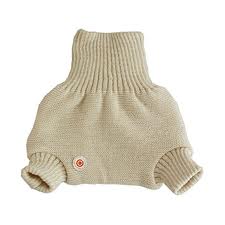 Wool Covers
are great for day and night time use. They are soft, very absorbent and breathable. Fully lanolized, wool covers are watertight and dirt repellent. Wool covers should be dried in between usage and only need to be washed every couple weeks or when smelly. Wool covers require a fitted diaper or a prefold underneath.