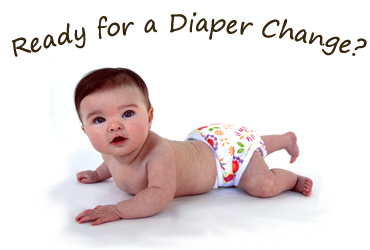 You are thinking about using cloth diapers? Great! You're in the right place. We'll help you to understand all you need to know about cloth diapering. It's easy and Mother Earth will thank you.
Cloth diapers have come a long way. Times of leaky, bulky cloth diapers which were held together by safety pins are gone and have been replaced by new high tech performing materials and fabrics. Many parents are still worried about cleaning messy cloth diapers, but modern cloth diapers make clean up an easy task.
Today's cloth diapers come in a huge variety of fun prints and beautiful colours with either Velcro or snap closures for easy fastening, and elastics in the back and leg openings to keep in the poop. They are waterproof and breathable and most importantly they keep your baby's bum healthy.
New designs like the All-In-One make cloth diapering as easy as using disposable diapers. At Ava's Appletree we know that understanding the many options of cloth diapering can be overwhelming to a new mom and dad. Let us help shed some light into the many choices available to you.
Once you are into your routine you will be surprised how easy it is to cloth diaper your baby. If questions ever come up please don't hesitate to contact us. We love to help!
Why using cloth diapers is better
Understand the different types of cloth diapers
How many cloth diapers do you need?
How to care for cloth diapers