Description
Description
Grimm's Building Set Numbers with Timer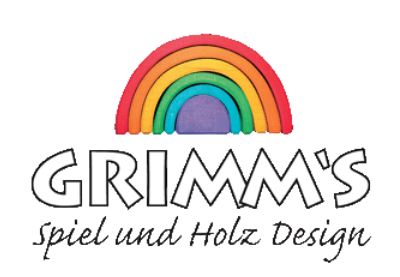 Children will have fun as they learn with this fab set of chunky wooden numbers. It includes 11 numbers - from 0 to 9 - and a timer, which is great for adding a competitive element to doing sums. This set is great for learning how to count and the fundamentals of mathematics, and the colourful pieces can be stacked too in various shapes. These numbers are made from lime wood and naturally stained using non-toxic, water-based colour. This natural finish allows the grain of the wood to shine through and ensures that this toy is safe for young children. Each number measures 8cm high and 2cm thick. The set comes in a carton box for safe keeping.
Includes 11 wooden numbers, 0-9, with two number 1s and a timer.
Grimm's wood is only sourced from sustainably managed forests in Europe. Trees harvested include alder, lime, beech and maple. All colours and oils, used are certified in accordance with the EN 71 and CPSIA/ASTM 963 standards. They are non-toxic water-based colour stain & non-toxic plant-based oil finish.
CARE INSTRUCTIONS: For care simply use soapy water with a damp cloth for cleaning. Dry immediately. Please do not submerge in water and do NOT use disinfectant or hot water.
Recommended for 3 years plus.
Made in Germany
All Grimm's toys are produced and hand painted in small factories within Germany. Each item is produced with lots of care and anyone that has ever held a Grimm's toy in their hands will understand their slogan: "Joy through colours"! Grimm's develops toys that help children discover their own creativity through simple and reduced shapes that leave room for independent arrangement. Many of Grimm's toys integrate Waldorf and Montessori aspects in their design. Grimm's are one of Europe's most beloved companies for natural toys. Ava's Appletree is proud to offer Grimm's toys now to parents in Canada.
DAMAGES & CARE OF WOOD:
Grimm's wooden toys are not finished with a lacquer therefore they cannot be exposed to water as the wood softens and breaks as a result. If you would like to clean your toys, use a damp cloth and wipe them down.
Grimm's has a high standard for quality and long life. When making our toys, we carefully select wood without defects. At each step, the quality of the wood is checked.
Wood is a natural product, responds to air changes, and is not indestructible. When using their new toys, prompt children to use caution. If something breaks, repairing the damage with wood glue is a safe, and environmentally sound way to keep enjoying the toy.
Grimm's oils their nature wood products with a mix of different nature oils. The stronger smell is typical for natural linseed oil which is completely harmless, and it will decrease over time.
Reviews
Reviews (0)
Be the first to review this product.
Additional Info
Additional Info
SKU:

60340
Shipping:

Calculated at Checkout