Description
Description
Grimm's Shapes First Creative Puzzle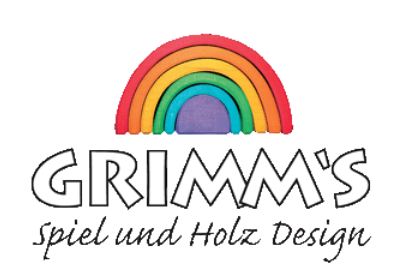 For toddlers, its not about the puzzle being rebuilt in the right way. Its more about discovering what could be rebuilt or created with the wooden pieces. A nice solid wood frame keeps the puzzle pieces in place. Grimm's puzzles offer children unique ways to be creative. Let your children explore new shapes, pictures and figures through free arrangements. Grimm's shapes puzzle is made of lime wood and has been painted with safe water based colours and natural oils. Each piece of Grimm's puzzles is sanded by hand to ensure smooth, round edges. It measures 18 cm (7 inches) and each piece is 2 cm (0.8 inches) high. Grimm's puzzles are a wonderful decoration for every room and have a strong stimulative nature to be built and played with.
Recommended age: 1 year+
Made in Germany
All Grimm's toys are produced and hand painted in small factories within Germany. Each item is produced with lots of care and anyone that has ever held a Grimm's toy in their hands will understand their slogan: "Joy through colours"! Grimm's developes toys that help children discover their own creativity through simple and reduced shapes that leave room for independent arrangement. Many of Grimm's toys integrate Waldorf and Montessori aspects in their design. Grimm's are one of Europe's most beloved companies for natural toys. Ava's Appletree is proud to offer Grimm's toys now to parents in Canada.
Reviews
Reviews (0)
Be the first to review this product.
Additional Info
Additional Info
Shipping:

Calculated at Checkout