Description
Description
Grimm's Dwarf Village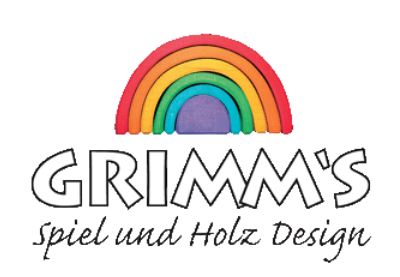 These fantastic building blocks open new possibilities in building and creating, in combination with traditional elements, again and again new and exciting worlds of experience – using a completely new design language. (Does not include arches shown in 2nd picture).
8 Houses in Dwarf Village Set comprised of a total 28 pieces.
Materials: handpainted lime wood, non-toxic water-based colour stain.
Size: buildings are approx 10-20cm height.
AGES 0+
Made in Bosnia
All Grimm's toys are produced and hand painted in small factories within Germany. Each item is produced with lots of care and anyone that has ever held a Grimm's toy in their hands will understand their slogan: "Joy through colours"! Grimm's develops toys that help children discover their own creativity through simple and reduced shapes that leave room for independent arrangement. Many of Grimm's toys integrate Waldorf and Montessori aspects in their design. Grimm's are one of Europe's most beloved companies for natural toys. Ava's Appletree is proud to offer Grimm's toys now to parents in Canada.
Reviews
Reviews (0)
Be the first to review this product.
Additional Info
Additional Info
SKU:

07300
Shipping:

Calculated at Checkout