Description
Description
Best Bottom Diaper

The Best Bottom Diaper system is an economical diaper solution that combines the benefits of several diaper types. There is no need for stuffing or folding inserts/prefolds and since you can easily detach soiled inserts from the diaper, and the drying time is greatly reduced compared to an AIO diaper.
Based on the wonderful reviews Best Bottom diapers receive throughout the cloth diapering community, and several customer requests, we have now added this fantastic diaper system to our cloth diaper inventory for immediate shipping. Please check our starter kits for deal packages on Best Bottom Diapers.
How do Best Bottom Diapers work?
The Best Bottom diaper system contains 2 elements: the reusable diaper covers made of a double layer of PUL and your choice of snap-in inserts.
1. Take out a Best Bottom diaper cover and an insert.
2. Adjust the front snaps on the cover to achieve the size needed.
3. Snap in an absorbent insert. Best Bottom offers stay-dry microfiber or organic hemp/cotton inserts, and now overnight inserts.
4. Place it on your baby. Done!
5. If your baby's insert is wet, open the diaper, remove the soiled insert, and simply snap in a fresh, clean insert and you are ready to go. The Best Bottom diaper is also wipe-able, and we recommend allowing them to air dry between uses.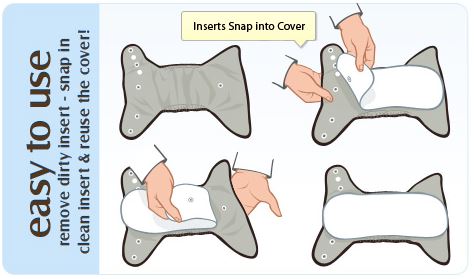 What we love about Best Bottom diapers is that it is a very trim diaper system that fits babies from newborn to potty training and that the great design that includes leg gussets and double layer of PUL really doesn't allow for leaks.
Colours
Sizing
Fits from birth to 35+ lbs. Best Bottom diapers have special leg gussets that keep messes in, an adjustable rise with four settings, and overlapping closures in both snap and velcro. The Best Bottom shell is a very trim fitting diaper so please be extra careful that none of the inserts is sticking out of the shell. Also, after the diaper is on, pull the leg gussets out around baby's legs. This will guard against leaks and help to avoid red marks on the skin.
How many diapers do you need?
We recommend getting as many diaper covers as your baby makes poos in a 2-3 day time period. We have found that poo does stay on the insert most of the time but in some cases it may not (it will stay in the diaper cover avoiding an embarassing mess!). The absorbent Best Bottom inserts are available in three sizes (small, medium and large). We don't believe in a one size inserts. Newborns and toddlers are not the same size so in order for a one size insert to absorb enough for a toddler it will be HUGE on a newborn. We recommend approximately 24 inserts per size.
So to make it SIMPLE you will need approx 8-10 shells and 18-24 Best Bottom Snap Inserts per size.
If you have a heavy wetter, we recommend using Best Bottom Doublers to add more absorbency to the diaper.
How to take care of Best Bottom diapers
We recommend washing every 2-3 days. We have found that the Best Bottom system washes beautifully as it takes up less space in your washing machine allowing more room for agitation getting your diapers super clean.
1. Remove solids
2. Reuse the shell until soiled or wash day. Separate shell from insert before washing. Fasten laundry tabs (if applicable).
3. Do a cold rinse or cold quick wash (no detergent).
4. Warm or hot (not "sanitary") full wash with 3/4 to full amount of additive-free detergent. Use the most amount of water possible.
**Tip! Throw a soaking wet towel into your washing machine to "trick" it into using more water**
5. Extra rinse.
6. Inserts can be tumble dried. Shells should be line dried.
***No fabric softeners, dryer sheets or additives such as vinegar, baking soda, washing soda, borax, oxyclean, etc. should be used. Rash creams can only be used with a barrier between baby and the diaper. We know that additive-free detergents work and are least likely to cause any problems with your diapers. However, we have done extensive testing with Tide Original and know that it works with our diapers.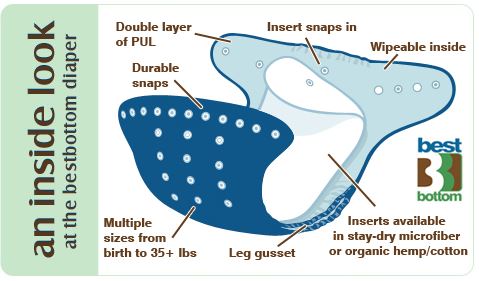 Made in USA
Reviews
Reviews (12)
Simple and the best
I had almost given up on cloth diapers until I found this system! LOVE IT!!!
Best cloth diapers I've found
The ease of use and cleaning is primary for me and my stay-at-home-dad husband and Best Bottoms hit the mark. The variation in size, the quick snap in inserts, the adorable patterns/colours. We have never had any problems with leakage or had to strip to keep them absorbent or clean. We have used them from 6 months to 2 years before purchasing the Best Bottom training pants for our first born and now we're using the same diapers for our second born. They have hardly worn and hold up amazingly. I can't say enough, we love them.
Additional Info
Additional Info
SKU:

322740
Availability:

Usually ships in 1-2 business days.
Shipping:

Calculated at Checkout