Description
Description
Beco Toddler Carrier - Metro Black
Beco's popular baby carrier is now in a toddler size, for use from 18 months and up, for toddlers 20-60lbs/9-27kg. Suitable for all-day use, the Beco Toddler allows you to carry older kids in a seat that's comfortable and healthy for both of you.
As well as the now standard pocket on the waistband, the Beco Toddler comes with a snap-on hood and zippered pouch for extra on-board storage.
Which positions are possible with the Beco Toddler Carrier?
- Front carry facing IN
- Back carry
- Hip carry
Why we love the Beco Toddler Carrier?
- Adjustable chest strap
- 19-inch padded shoulder straps. You can either cross them or use them backpack style.
- Padded built-in headrest
- Ergonomic wide seat for knee-to-knee support
- Padded leg support for more comfort
- Safety buckles with double-action release, keeping baby extra secure
- Adjustable straps to make breastfeeding easy
- 100% cotton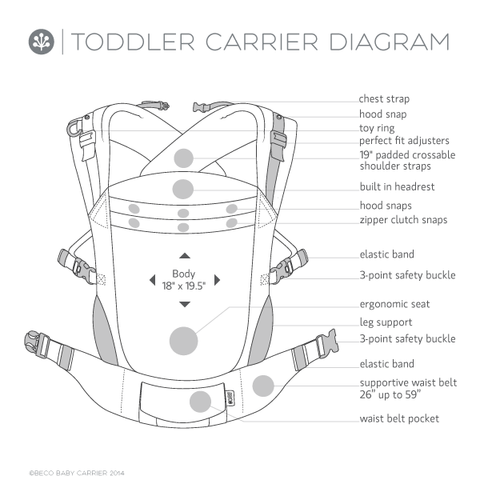 Reviews
Reviews (0)
Be the first to review this product.
Additional Info
Additional Info
Shipping:

Calculated at Checkout