Storchenkinder Fitted Diaper - Stripes

NEW! Storchenkinder Fitted Diapers have long been popular among cloth diapering families in Germany and we are excited to now offer these super soft and organic tie diapers in Canada. Storchenkinder Fitted Diapers are very trim and fit nicely underneath one-size diaper covers, wool covers or our Thirsties Duo Wrap in size 2. We also carry Storchenkinder Organic Fitted Diapers with undyed cotton.
Why we love Storchenkinder Fitted Diapers
Trim fit.
3 absorbent layers of 100% organic brushed cotton.
Narrow cut between the legs offers great mobility for babies.
Easy to use, non-slip ties.
Ties allow for a customized fit.
Very soft terry cotton.
Soft edges and gentle on the skin; this diaper leaves no red marks.
For heavy wetters or if used as an overnight diaper we recommend using a booster with your diaper.
AMP Hemp Boosters
fit perfectly in these fitted diapers. You may also want to use
Flushable diaper liners
to help prevent stains on your diapers.
As with all fitted diapers, this diaper requires a
diaper cover
.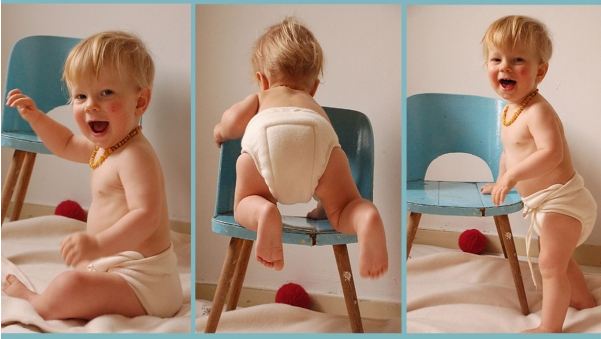 How to care for Storchenkinder Fitted Diapers
Wash the diapers 1-2 times in hot water before wearing to achieve maximum absorbency.
Use only zero-residue detergents to avoid build up (all detergents in our
laundry and detergents
section work great with cloth diapers).
Wash cycle: Pre-wash cold - regular wash hot - rinse
No fabric softener.
Storchenkinder Fitted Diapers fit babies 5-14 kg (11-30lbs) which is approximately from 2 months to potty training.
Now available in size 1! Perfect for newborn babies.
Made from 100% organic cotton
Designed and sewn in Germany