Sarah's Silks Silk Capes - Red/Orange
Shipping:
Calculated at checkout
Gift Wrapping:
Options available
---
Product Description
Sarah's Silks Reversible Capes

The reversible Silk Capes have two layers of contrasting colors of silk with ties and an elastic neck band. Leave it tied and slip over head for easy on/off. A staple for dress-up and dramatic play, kids become princesses, pirates, magicians, superheroes, fairies and anything else your child can dream up! Coordinate with fairy skirts by Sarah's Silks!
Fits 3-8 year-olds.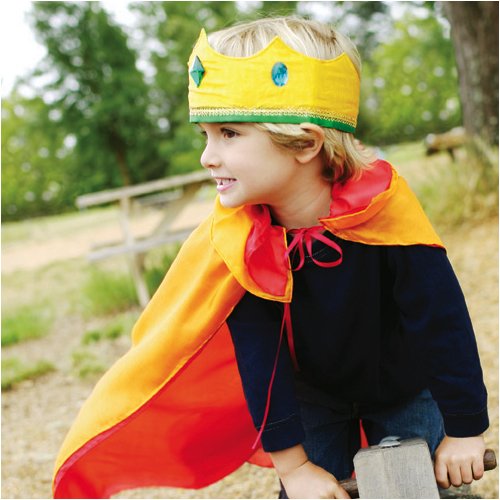 32" long.
Pretend to be:
princesses
pirates
fairies
super heroes
and more...
Hand wash/hang to dry
About Sarah's Silks
Dive into a world of colourful playsilks. Sarah's Silks creates natural toys, that are simple and leave lots of space for creative minds. Who would you like to be? If princess, knight, fairy or flying hero, there are no limits set with Sarah's Silks playsilks and dress up toys. Sarah's Silks offers quality playsilks, toys and dress-ups for boys and girls that inspire imagination and creativity. Sarah's Silks are produced in Suzhou (China) and being finished in California, USA. Non-toxic dyes are used to colour Sarah's Silks and their silks can be hand-washed.
---
Customers Who Viewed This Product Also Viewed