Babyhawk Oh - Birdie Tweets Grass
Gorgeous Babyhawk Oh Snap with a modern, geometric print design. The straps on this baby carrier are olive green.
Save on Customs, duty and shipping fees, and waiting time by ordering one of our beautiful custom made Babyhawk Oh Snap carriers that ship for free* within Canada.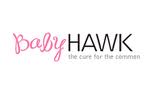 The Babyhawk Oh Snap is a soft structured baby carrier that is fully adjustable, comfortable, allows for front and back carrying, and is perfect for infants and toddlers. The triple padded straps on the Babyhawk Oh Snap distribute the weight of the child evenly on to your shoulders and hips, offering a comfortable carrying experience even when carrying toddlers and older children, or when carrying your child for an extended period of time. The Babyhawk Oh Snap is perfect for babies that have outgrown or got too heavy for a baby wrap or sling, as it can handle children 15-45lbs. Please note that this carrier is not designed for newborns and shouldn't be used with babies under 15lbs.
The adjustable straps ensure that the carrier can be easily and comfortably shared by different caregivers. It fits women size 0 to 22 and men size S to XXL.
What is the difference between the Babyhawk Mei Tai and Babyhawk Oh Snap?
The Babyhawk Mei Tai has lightly padded straps that need to be tied and is easily adjustable between caregivers. The Babyhawk Mei Tai works better for newborns and small infants.
The Babyhawk Oh Snap has triple-padded straps with snaps that buckle together and is great if you are going to be hiking, are carrying heavier children, don't want long straps dragging on the ground, or if you don't want to tie the straps.
To clean your BabyHawk Oh Snap, simply wash in your laundry with cold water and your usual detergent and tumble- or line-dry.
BabyHawk carriers are custom made in California.
Please visit Babyhawk's website for instruction of how to use a Babyhawk Oh Snap http://www.babyhawk.com/Instructions/OhSnap.aspx.