Babyhawk Mei Tai Carrier Full Panel - Aqua Buds
Gorgeous Full Panel Babyhawk with olive green aqua buds on teal background. The straps on this baby carrier are light beige/grey.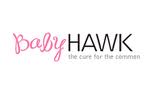 Babyhawk Mei Tai Carriers are Asian inspired baby carriers that wrap your baby snug to your body and are tied with 4 straps along your front or back and your tummy. Parents love Babyhawk carriers for their comfort, unique custom made designs, and for fitting newborns and growing children up to 40lbs without need of an extra newborn insert. Many newborns even prefer the carrying position in a Mei Tai to a newborn sling, and with the upright position and large headrest fabric, moms can breastfeed discreetly in the BabyHawk carrier as well.
Mei Tai carriers are especially comfortable for extended carrying and growing children because they distribute the weight of the child on to your shoulders and hips, and the long straps ensure that the fit can be finely adjusted to fit different caregivers. Mei Tai carriers fit women size 0 to 22 and men size S to XXL.
The Babyhawk Mei Tai Carrier allows for front and back carrying.
Please note: This Babyhawk is a full panel carrier.
What is the difference between the Babyhawk Mei Tai and Babyhawk Oh Snap
The Babyhawk Mei Tai has lightly padded straps that need to be tied and is easily adjustable between caregivers, and it works better for newborns and small infants.
The Oh Snap has triple-padded straps with snaps that buckle together and is great if you are going to be hiking, are carrying heavier children, don't want long straps dragging on the ground, or don't want to tie the straps.
To clean, your BabyHawk Mei Tai carrier can simply be washed in your laundry with your usual detergent and tumble- or line-dried. (For convenience, we recommend putting the carrier in a pillowcase when washing to keep the long straps from tangling with other laundry.)
BabyHawk carriers are custom made in California.
Save on Customs, duty and higher shipping fees, and waiting time by ordering one of our beautiful custom made Babyhawk Mei Tai directly in Canada.
Please visit Babyhawk's website for instruction of how to tie a Babyhawk Mei Tai carrier http://www.babyhawk.com/Instructions/.