AMP Duo Pocket Diaper

Note: We carry the AMP Duo Diaper only in size small at the moment. For some newborn babies a one-size diaper is often too large thus doesn't fit very well. Our AMP Duo Diaper offers a custom fit for your newborn baby already from day one. Once your baby has outgrown the small size you can continue using AMP diapers one size Duo Diaper which will fit your baby until potty time.

The great benefit of AMP Duo Diapers is that you can use them in two ways.
Use the diaper as an all-in-two (AI2) diaper: Place the absorbent insert/prefold on top of the diaper and only replace the insert during diaper changes. The waterproof shell is lined with a soft fleece, preventing the insert from moving around and is very soft on your babies skin. Unless this fleece is wet or smelly, you can reuse the diaper.
Use the diaper as a pocket diaper: Stuff your pocket diaper to your baby's needs. Great for heavy wetter or for night-time use. The fleece liner wicks away moisture and keeps your baby's skin dry and comfortable. The wide pocket opening allows for easy stuffing.
If you are only looking for an AI2 diaper without the pocket option try our AMP AI2 Diapers.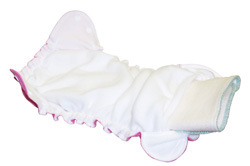 Why we love AI2 Duo Diapers
The soft elastic gathers are incredible at containing leaks while being oh so gentle on babys tender skin
Four rows of snaps on each side allow seperate tummy and thigh adjustments, this means you get a custom fit on any baby.
The super soft fleece keeps the absorbent insert where it belongs so there's no bunching, it also keeps baby dry if used as a pocket diaper.
The durable waterproof yet breathable fabric is soft and stretchy
These diapers can be washed and dried over and over and still look and work like new.
Since they are a two part system washing and drying is quick and easy.
Choose your favorite absorbent inserts (inserts are sold seperately).
Our microfiber inserts and AMP hemp inserts work well with these pocket diapers. Use an AMP hemp booster to add extra absorbency to your baby's diaper during nap times or for nighttime use.
Small 6-18lbs
Made in Canada

About AMP Diapers
AMP diapers is a Canadian cloth diaper company which offers quality diapers that fit babies of all shapes and sizes. Loved by moms and babies alike, all AMP diapers have a few things in common; they are super soft, easy to care for and are truly comfortable. AMP diapers are designed to keep the messes in; they can be fully adjusted and provide excellent absorbency. AMP diapers were designed by Annie, a mother who decided that cloth diapers should be functional and comfortable throughout all stages. Every AMP diaper is made in Canada, in the AMP diapers factory in Winnipeg. Using the highest quality fabrics ensures that AMP diapers are durable and functional. AMP diapers offers many great designs, including AMP one size Duo Diapers, Sized Duo Diaper, Stay Dry All in One Diapers, soft and absorbent inserts and more! AMP diapers' most popular one size Duo Diaper is now available in prints. Try AMP diapers today and see why so many parents love them!